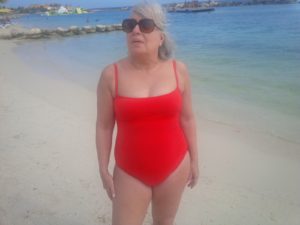 My mind understands this is essential: the acceptance of ourselves as older women. Changes in our bodies are the first sign we are no longer the young, pretty things we once were. They creep in and slowly transform us. I know that, but since changes come slowly or we are not paying attention, we just wake up one morning and we are older!!! It was not easy for me to post this picture, but I thought it necessary.
This is who we are today and accepting, loving it and moving on is the thing to do. Now, what each one of us mean by accepting is the difference between living in harmony with ourselves or fighting to stay young by any means. This would be hardly harmonious. The desire to hang on to our youth is powerful, I understand. Millions of women spend fortunes in beauty products and surgery to try just that. Who are we to criticize….. but is it worth it? For some it is, but more and more women are changing this view.
The most important thing we should remember: keep healthy, active and involved. Living in harmony with our aging bodies, accepting them, does not mean we are going to let go. Nobody is saying we should just stay home, gain weight, slow down in our activities, dress like our grandmothers did and sit and wait for old age to fully take charge of our lives. Absolutely NOT!!!
Accepting our bodies as they are today involves a lot of work, dedication and care. We should work at keeping our bodies healthy and performing at their best. Make sure you have your physical exams regularly, listen to your body and tell your doctor anything you do not like or understand. This is most important. If you need medication, take it and do not forget to take your vitamins and supplements.
Eat right for your age. I know, here I go again mentioning age, but it's important. At this stage of our lives we need certain nutrients more than others. We cannot tolerate certain foods and certain drinks. Alcohol should always be taken in moderation, but these days it's more important. Make sure you know what agrees with you and what doesn't. There is also the fact that overeating or eating at certain hours could be upsetting to our bodies, pay attention.
If you are exercising, great!!! If you do not like to exercise, try yoga or tai-chi. Your body needs to stay nimble, it will help your aches and pains, your posture and your attitude. Walking tall is always a confidence booster!!!
Finally, and very important, learn to dress as you please. It's our time, wear what you like, what makes you feel attractive, what feels good. There are no rules about how we should dress…..never mind what certain people say. If you Google this topic, there are countless articles. Ignore them!!! Best go online and look at older women's style blogs. You will be surprised in a wonderful way.
Now you know: accepting our aging bodies it's a powerful statement in a world obsessed with youth. Go out and make that statement with pride!!!